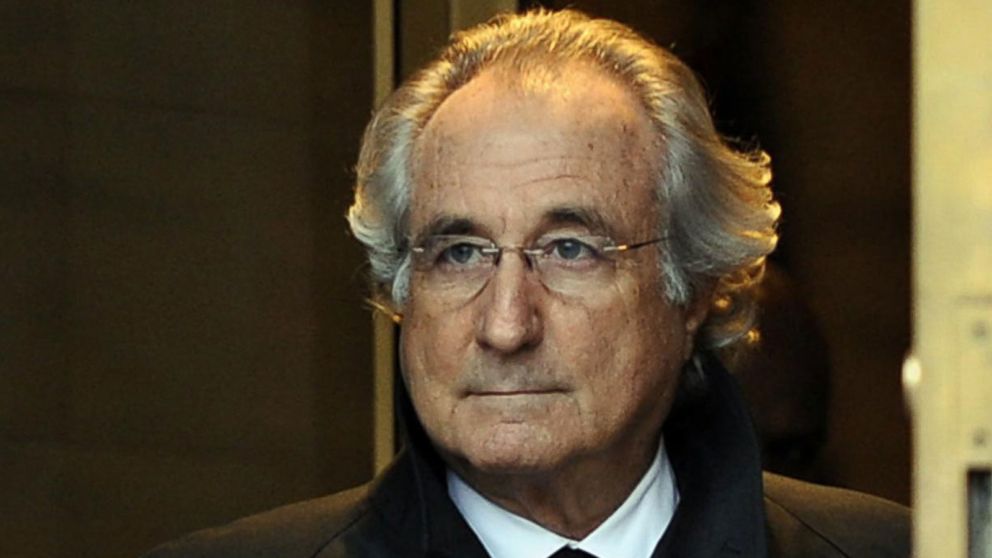 The date was Monday, June 29, 2009. It was probably not an outstanding day for you. Perhaps it faded into the woodwork of your life. But for at least one man it was a day long to be remembered.
The 71 year old man, dressed in a dark suit and a white shirt and tie stood silently. The man looked like an accomplished corporate executive or an elder statesman. But now the whole world recognized him as a criminal of the first order. In fact, U.S. District Judge Denny Chin showed no leniency whatsoever as he sentenced the older man to 150 years in prison. That type of sentence up until Monday, June 29, 2009 was reserved for terrorists, traitors or the most violent criminals.
As convicted felon Bernie Madoff stood at the defense table in the Manhattan court room, the judge solemnly condemned his heinous crimes.
"Here, the message must be sent that Mr. Madoff's crimes were extraordinarily evil and that this kind of irresponsible manipulation of the system is not merely a bloodless financial crime that takes place just on paper, but it is instead … one that takes a staggering human toll," Chin said.
Although the exact dollar figure may never be determined, Mr. Madoff himself told his sons before he was arrested that his swingling ponzi scheme was a $50 billion fraud. Thanks to Mr. Madoff, the life savings of thousands of trusting souls was wiped out, charities were demolished and the entire American financial system was shaken – not to mention the ripple effects around the world.
His Curriculum Vitae up until December, 2008 was most impressive. Included were the following:
Prominent philanthropist
Chairman of the Board of Directors of the Sy Syms School of Business
Board member of New York CityCenter
Member of New York City's Cultural Institutions Group
Chairman of NASDAQ
Boards of multiple charities
In the courtroom victims spent an hour crying and calling this very same man a 'beast', a 'monster', a 'low-life'.  The judge himself said his crimes were extraordinarily evil taking a staggering human toll.
It seems even for the worst of criminals there is usually someone there to say something good about the criminal. A spiritual counselor, a family member, a wife, a heart broken son or an old high school friend. But on June 29, 2009 no family members were there to provide moral support for Mr. Madoff. Ruth, his life-long wife and high school sweetheart didn't even show up. Where were his corporate friends in high places? Where were his  fellow golfers? Does no one love Mr. Madoff?
It's not unusual for a judge to receive letters both supporting and opposing the convicted person. Judge Chin pointed out that he had received over 100 such letters pertaining to Mr. Madoff. But not a single one had anything good to say about Mr. Madoff. He said: "The absence of such support is telling."
Not only was Mr. Madoff sentenced to 150 years in a federal prison which has no possibility of parole – his own defense chose not to launch an appeal. Mr. Madoff will die in penitentiary.
How do you feel about Mr. Madoff? You haven't even been hurt by him and yet you feel the inner disgust and repulsion for the crimes he committed against unsuspecting and trusting people and organizations. Do you love him?
Does anyone love him? Would anyone like to forgive him and give him a bright future? Yes. 'Who', you ask? God loves Bernie Madoff. The same God who would like to give you a bright future and forgive your sins loves Bernie Madoff too. In fact, God loves every sinner of every kind.
All sin is a major offense to God. All sin of any kind will keep a person out of Heaven. Sin of any shade is totally opposed to the holy character of God. The sin of pride or greed; lustful eyes and perverted fantasies; lies that are black or white; thoughts of revenge or hate; acts of deceiving a friend or failing to report all income; not giving God 1st place in one's life, etc. These are just examples of sins we all too often dismiss lightly. But with God – all sins are offensive. Bernie Madoff's, mine, and your's.
God loves you. God loves Bernie Madoff. God loves me. God loves sinners. Period.
His love isn't all talk either. It's not some sentimental or superficial love. His love runs deep. His love was put into action. The Bible tells us all about His love.
Quotes from the Bible:
"For God so loved the world that He gave his only begotten (unique or one and only) Son, that whoever believes in Him should not perish but have eternal life."
(John 3:16)
"…God is love. By this the love of God was manifested in us, that God has sent His only begotten Son into the world so that we might live through Him. In this is love, not that we loved God, but that He loved us and sent His Son to be the propitiation for our sins.
(1John 4:8-10)
For while we were still weak, at the right time Christ died for the ungodly. For one will scarcely die for a righteous person–though perhaps for a good person one would dare even to die– but God shows his love for us in that while we were still sinners,
Christ died for us.
(Romans 5:6-8)
"The blood of Jesus Christ, His Son, cleanses us from all sin."
1John 1:7.
(All is a very inclusive and comprehensive word. It covers your sins, mine and Bernie Madoff's.)
Bernie Madoff needs to hear good news. I would like to tell him that crimes and offenses he committed that can never be removed from his record on earth can be wiped out completely in God's Book. He needs to know as he sits alone in his cell for the rest of his days that God loves him and God wants Bernie Madoff to turn to Him and to trust His Son as his personal Saviour. God wants Mr. Madoff to experience the forgiveness of sins and to have a home in Heaven.
One who is rejected by all, can be accepted and embraced by God based on the work of Christ upon the Cross.
Mr. Madoff – God is waiting for your response to His gracious and merciful offer. Reader, God is waiting for your response. What's available to the worst of criminals is also available to you. And your need is just as great in God's sight.
Sources:
http://news.yahoo.com/s/ap/20090629/ap_on_bi_ge/us_madoff_scandal
http://www.cbc.ca/money/story/2009/03/12/madoff-plea-court.html?ref=rss
http://business.theage.com.au/business/world-business/madoffs-one-big-lie-20090313-8wpb.html